Meet, exchange

Be. Connected.
We love to meet you! During fairs, workshops or online sessions, let's talk!
September 2021 - Event
"SITEM 2021"
"All" the museums, a number of monuments, gardens, libraries, archives and various cultural institutions are the natural relatives of SITEM. But we want to highlight three remarkable and valuable emerging trends: internationalization, economics and cultural variety.
September 2021 - Event
"Global Industrie"
Global Industrie returns in 2021 to the land of his last exploits with more ambitions than ever. With the primary desire to help its exhibitors and visitors, who have just gone through a particularly difficult period, to relaunch and strengthen their activity. Let it be said: in 2021, the largest industrial fair in France returns with a ferocious appetite!
We'll be there and you ?
Webinar

"The connected show case"
From anti-theft security to climate control, discover the heritage showcase of the future.
EDITAG Arts and Promuseum presented the latest innovations specially designed for shop windows.

Webinar

"How does IoT / RFID contribute to logistics?"

Some cases of applications, benefits and ROI in logistics:
Traceability: identification and monitoring of products equipped with labels,
Automatic detection of zone entrances and exits,
Container tracking,
Synchronization of operations and optimized intralogistics processes,
Visibility on the logistics chain,Optimization of the use of resources,
Time saving for teams (less or no more manual entry),
Visibility of flows in real time,
Fight against theft,Reduction of logistical errors,
Reduction of work accidents,
Webinar

"Security solutions for temporary exhibitions"
For cultural establishments, hosting works on loan, hosting a temporary exhibition of varying length requires special organization. This also requires a reinforced level of protection of works.
What solutions can be easily implemented to secure temporary exhibitions?

Marketplace
"Industrie Online"

Find us also on the new GL Events marketplace, Industrie Online: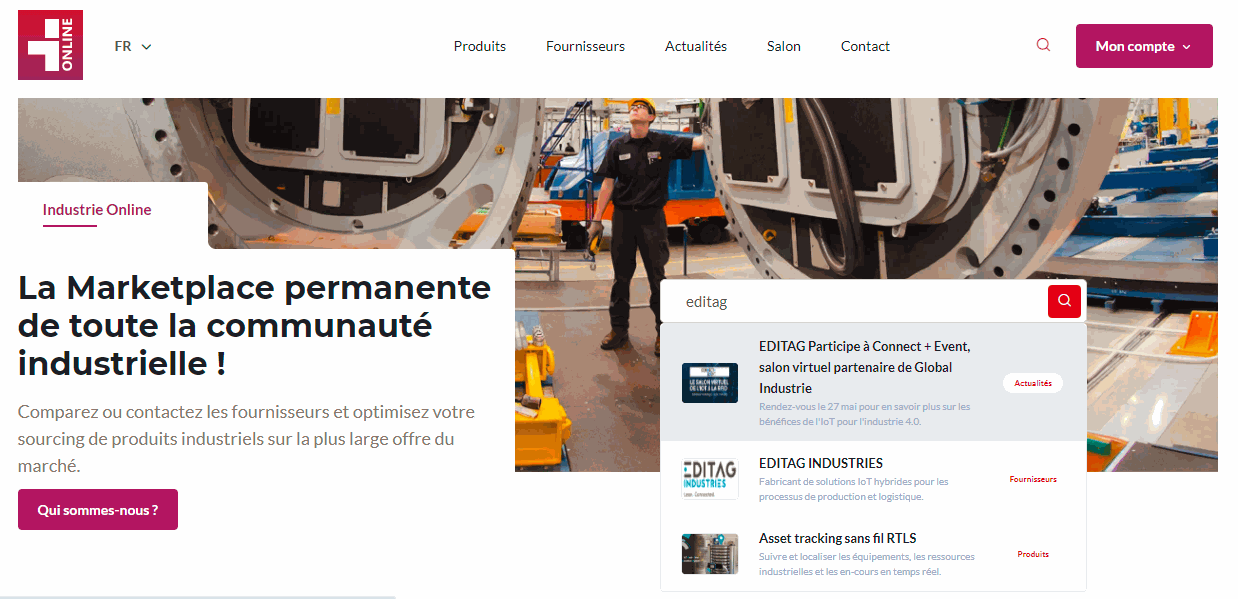 Webinar

"RFID Inventory of works of art"
Whether as part of a collection project or to carry out their daily missions, the teams of cultural establishments must maintain an up-to-date repository of works.
During this webinar, discover how IoT and RFID can automate and facilitate inventory and verification missions
Webinar
"Digitize your factory,
Easy to do?"
3 days, 9 industrial testimonials and teams of 11 independent players from the Factory of the Future (suppliers of software and hardware solutions, consulting firms, training center and financing solution) for:
- Advance your digitalization project for your factory,- Help you discover the simplicity of technical and / or support solutions.
Webinar

"Find out about the maintenance service in operational conditions for your Close Protection of Works system."
Webinaire
"Wireless Pick-To-Light: points to validate before deploying"
Do you want to embark on a digitalization process, a zero paper goal? Do you want to install a Pick-To-Light system to help your operators but don't know how to go about it?
In this webinar, we will look at the questions to ask before deploying an IoT Pick-To-Light system. We will then see how it all works, interfacing with your existing tools.
Webinar

"Approach detection sensor"
During this webinar, discover our electronic remote IoT sensors, how they work and the different ways to integrate them into the scenography.
Webinar
"Eliminate production orders and paper tracking sheets."
Find out how the IoT supports your digitalization efforts even in the missions of field operators.
Webinar

"The connected show case"
Identification by Radio Frequency - RFID - allows information from sensors to be sent and read through most materials. No need to open a window to find out about the weather conditions or protect it against theft. The showcase is connected!
Webinar
"Supervision and localization of material flows with hybrid RTLS."
You hear a lot about the benefits of RTLS - Real-Time Location System - for optimizing your industrial processes.
What if the key was hybrid RTLS? EDITAG tells you more during this webinar.
Webinar

"ROSI and Works of arts protection"
Security managers: get your investment budgets more easily thanks to ROSI. Almost all security, loss prevention, crisis or risk managers know the challenge of determining ROI - Return on Investment - when it comes to convincing management.
How to justify and obtain the necessary investment budgets Do you know the ROSI?

Webinar
"Pick-To-Light IoT"
Find out how a wireless and contactless IoT Pick-To-Light system for kitting and order preparation works.
Webinar

"How to integrate your system of Close Protection of Works?"
Autonomous solutions, multi-room installation, multi-sensors, interface with video surveillance ...

In this webinar, we go over the different P.R.O installation architectures to identify which one is right for you.
Webinar
"Andon alerts integrated into your kitting solution"
Digitize LEAN alerts.
Use IoT to simplify ANDON field alerts. Find out how to integrate Andon functions into your IIoT solution for greater responsiveness of your operations, avoid drifts and focus teams around common objectives.
Webinaire

"
WebinART :
Preserve, enhance and secure works of art"
Meet 4 experts during an online presentation session.
EDITAG Arts, ITE Ingénierie, La Réserve - Gestion des Collections, Le Mouton à 5 Pattes, will present the latest innovations to preserve, enhance and secure works of art in the residential sector, yachts and hotels.
Webinaire
"Stand-alone or integrated Pick-To-Light system"
Whether used in order preparation to indicate product locations, in replenishment to indicate where to store or in production to show the parts necessary for the constitution of a product, the pick-to-light is a guidance system that reduces errors, oversights and saves considerable time.
Did you know ? It can operate autonomously or interface with your existing tools such as ERP or MES.
In this webinar, you will learn about the benefits of each mode through different scenarios.